Who's that girl?
Name: Barbara Jean Blank
DOB: January 15, 1987
Ring Name: Kelly Kelly
Debut: June 13th, 2006
From: Jacksonville, Florida
Brand: Former RAW & Smackdown Diva.
Finisher: K2, Kelly Killer or stink face
Mini Bio: Barbara Jean "Barbie" Blank (born January 15, 1987) is an American model, professional wrestler, dancer, and professional wrestling valet better known by her ring name Kelly Kelly. She is a former 1x Divas champion. The blonde bombshell, also graced the cover of Maxim magazine, as well as ranked #82 in the 2011 Maxim hot 100 list and even higher ranking in the 2012 Maxim hot 100 list, sadly she did not make the list this year (2013). Barbie "Kelly Kelly" was released from her WWE contract on September 28th, 2012. Want to know more? Click the link below! Read More?
Meet Barbie
Have you ever wanted to meet Barbie? To be able to see her face to face and talk to her? Well here might be your chance. Below are Barbie's current appearances coming up this year! Stay tuned for more appearances...

Currently Updating...
In The Spotlight
WWE Flashback
Official Links
Partners & Elite Affiliates
Current Projects
Latest Photoshoot's
Donations

Have any media or fan photos from meet and greets with Barbie, you would like to share with other Barbie fans? Now you can. We're always accepting media and candid photos of Barbie. Credit always given to the rightful owners. Just email us with the photos and include your name with your facebook and or Twitter so we can give the rightful credit. :) Email us by clicking HERE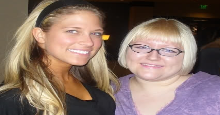 BBS Chat♥
Site Info & Disclaimer

Founded By: Crystal
Co-Owner: Letycia
Hosted by: Starszz
Launched: November 2011
Relaunched: January 2014
Best Viewed: Chrome
Official Forum: Unique-Divas
Designedby: MarozCreative.Com

Online: | 89708 +

BarbieBlankSource is a non profit and approved fansite on american actress,model and former WWE Diva Barbie Blank. We are not Barbie and we don't claim to. We have no contact with Barbie herself and either with her family,friends,WWE or any other company she has worked for. All photos and media found on this site are being used under the fair copyright law 107. No copyright infringement is intended.



2011 - 2014
barbiebalnksource.org
BarbieBlankSource is making a comeback!





Hey all of you &

The staff at BarbieBlankSource.org / BBS, would like to make a sweet announcement, that ONE of your favorite fansites dedicated to the brunette bombshell herself, former WWE Diva Kelly Kelly/Barbie Blank is making a comeback to the fansite world… After a long hiatus by Crystal, I have decide to do a complete revamp, with doing so we are BBS are looking for any suggestions on new features you want to see here at the site, we will be relaunching in April with BRAND NEW everything.. including an updated media section.. So send in your media donations. We are extremely excited and cannot wait for you to see what we have instore. but would love for YOU, the fans to be involved with the revamp. We have been online since 2012 and are ready to make this the BEST resource for all things Barbie Blank. Make sure you follow us on twitter , contact us via email at barbieblanksource@gmail.com, and we will be making ourself an instagram account at somepoint. So follow us on all social media networks. Facebook, twitter, email, instagram to come etc. Thank you for your continued support over the years and we are glad to be back!!

Revamp is happening now and we will soon be offline, while we update the themes, sidebars, etc. We will be returning on April 23, 2015.

xoxo,

Crystal and the staff at barbieblanksource.org
50 DIVA PHOTOS WE'RE MOST THANKFUL FOR

Meet Barbie at Collectors ShowCase of America





Want to meet Barbie? Here is a new change for it.

October 10 and 11

Barbara Blank FKA Kelly Kelly

Kelly Kelly will be available for autographs and photos with fans on March 2.
Kelly Kelly will be available for autographs and photos with fans on March 2.

CSA Shows

Dulles Expo Conference Center
4320 Chantilly Shopping Center
Chantilly, VA 20153

$25 Autograph

$25 Photo OP

$40 Combo
STARS GET LUCKY FOR LUPUS: 6TH ANNUAL POKER TOURNAMENT

New David Mecey Outtake

We're BACK!!!





Barbieblanksource.org is back with a brand new theme, made by Marozcreative.com! We would like to thank him for the amazing new theme. We hope that you like it as much as we do! We're still accepting two drop down affiliates. If interested let us know in our cbox or via our TWITTER
Barbie Gets Engaged!





We learned the news a little bit ago that our girl, is engaged. Looks like Sheldon finally popped the question. The picture above shows how happy they are! We want to congratulate Barbie and Sheldon and wish them the very best in there upcoming wedding! Also, Barbie's former co-workers from the WWE including Maryse and The Miz have replied to her via twitter to congratulate the two. Be sure to head over to both twitter profiles and congratulate them, if you haven't already.
WWE.COM Then And Now








WWE Magazine: What was the most important thing on your mind at the time of this picture?

Kelly Kelly: I was a nervous wreck. I actually had no idea what I was doing — I was just thrown into it. So I realized I just had to be myself, do what I know and hopefully the WWE Universe would like it. If I was able to prepare, I'd probably be dwelling on it too much. I found out what I was doing day by day, so those were crazy times. I had to just go out there and not think about it.

WWE Magazine: How different is Kelly Kelly now from the person in that photo?

Kelly Kelly: I feel like I've grown up so much. I've grown up in front of the entire WWE Universe, basically. Each week, they've gotten to see me and know me inside the ring and out. It's been me 100-percent. I've always been myself. It's been cool to be able to grow, and I'm not a kid anymore. If you've watched from day one until now, you can see that I'm a much improved person. I think it would be really hard to be someone else.

Related Links

WWE RELATED > OTHERS > THEN AND NOW